Drop goals, tries, conversions and penalties are all ways of scoring in rugby. One sport and four ways of scoring: isn't that a bit much, I hear you ask? And how do you tell them apart? We explain the key differences to shine a light on what's happening on the pitch. 
In rugby, a score can be worth three, five or seven points. A try is the most exciting way of scoring and earns five points. Two points can be added to that total if the conversion kick that follows the try is successful. Points can also be accrued in two other ways: penalties and drop goals, which each score three points. 
A try is scored when a player grounds the ball inside the opposition's in-goal area.
Five points are awarded for a try. You then have the chance to convert the try via a conversion kick.
This earns you 2 additional points and takes the score up to 7!
Another way of scoring seven points is the penalty try. A penalty try is awarded by the referee when the defending team commits a series of infringements close to the try line in an attempt to prevent the attacking team from scoring or commits a single deliberate infringement in a passage of play that would otherwise have led to a try.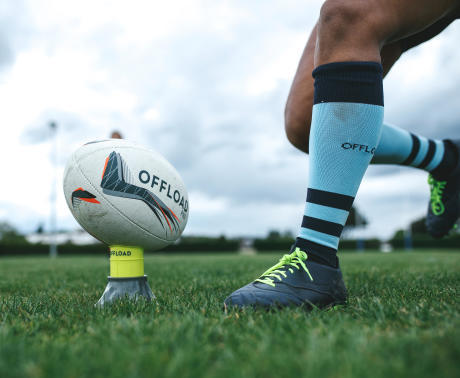 A penalty is a kick from where the foul was committed.
Penalties are awarded by the referee for serious fouls. For minor fouls, the referee can award a scrum.
Play then stops and the kicker takes their penalty. The opposing team must stand at least 10 metres away.
The team awarded the penalty have several options: to kick for goal, kick for touch or call a scrum. 
If the team elects to kick for goal and the kick goes between the two posts and over the bar joining them together, they score three points.
A drop goal can be scored at any time in open play. It is a technical play performed by a specialist kicker. 
The player drops the ball on the ground before kicking it.
The aim is to send it between the posts to score 3 points.
Play restarts from the centre of the pitch, like after a try or penalty goal.
We've shown you how points can be scored in rugby. Get practising now and become a goal-kicking wizard. 
* The prices listed on the site are the prices recommended by DECATHLON SA's central purchasing department.